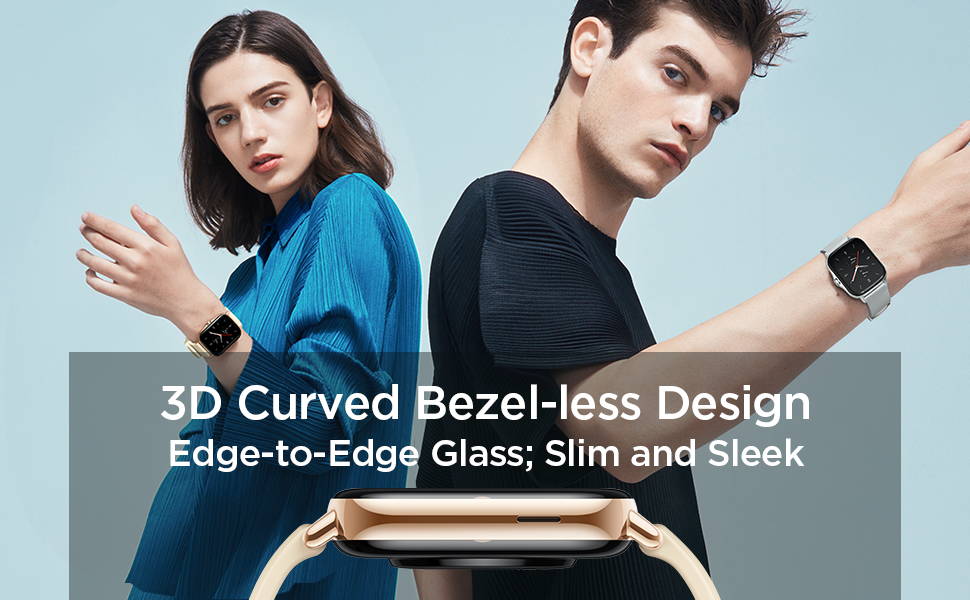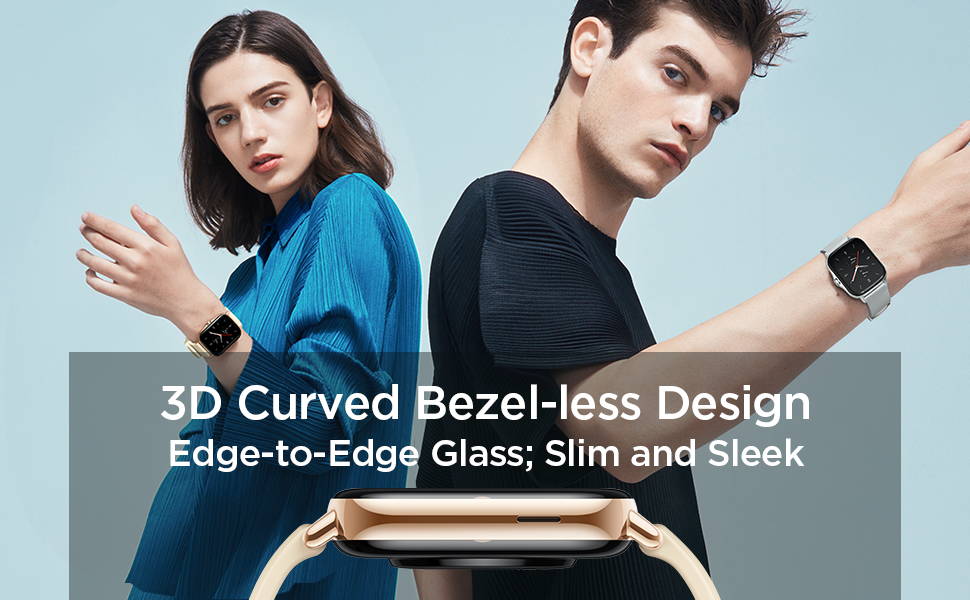 Amazfit GTS 2
Where Style Meets Health
3D Curved Bezel-less Design
All-round Health and Fitness Tracking
Long Battery Life | Alexa Built-in
Color and Clarity.
Beyond Comprehension.
The Amazfit GTS 2 features an AMOLED screen that rivals the best displays in the world. The
341 ppi pixel density makes the display clear, exquisite, and true-to-life, with vivid colors ensuring
smooth readability.
Edge-to-Edge Glass1.
Slim and Sleek.
Exquisitely crafted 3D curved glass shimmers like a piece of crystal jade, creating a strong
integrated visual experience, and the gorgeous and dynamic curves of the aluminum alloy body
deliver a comfortable and light wearable experience. The watch also incorporates diamond-like
carbon (oDLC) coating to provide a more scratch-resistant and wear-resistant screen that
greatly enhances the glass quality and lifetime.
u can see the interface you like whenever and
wherever you are.
Modular information dial.
Customize your most preferred features3.
Customize your watch faces with
images of your choice,
or even your own personal picture.
Keep your watch looking
stunning and check the
time anytime,with stylish Always-on Displays.
Comprehensive Health Protection4.
The Amazfit GTS 2 is equipped with the latest self-developed BioTracker™ 2 PPG
high-precision biological tracking optical sensor. Thanks to the powerful sensor
engine, it truly realizes all-round health protection.
.
Blood-oxygen
Saturation Measurement5.
Your Personal Health Guardian.
SpO2 is a major indicator of human health. That's why our fully-upgraded Amazfit GTS 2 introduces an SpO2 measurement function. When you engage in sustained mental labor, run a marathon, or do intense outdoor exercise, you can test your SpO2 level the moment you start feeling unwell, getting a better understanding of your physical condition and keeping your health under control.
All-day Heart Rate Monitoring6.
Abnormality Warnings for Added Safety.
The Amazfit GTS 2 features precision 24-hour heart rate monitoring, covering heart rate zones and providing warnings when your resting heart rate is abnormally elevated.
PAI™ Health
Assessment System7.
One Score to Understand
Your Physical State.
A PAI™ value is calculated by processing data about your heart rate, exercise time, and other complex health information with an algorithm. This value provides a customized health evaluation for each user based on their specific health data, offering everyone a unique experience.
Sleep Quality Monitoring8 for
Optimal Performance.
Analyze Sleep Stages and Naps.
A good night's sleep is a top priority in the modern world. Therefore, the Amazfit GTS 2 supports in-depth sleep monitoring, which can more accurately determine the sleep stage (the light sleep, deep sleep, REM9 periods), monitor the sleep breathing condition, and provide quality analysis and suggestions for improvement based on a night of sleep. The watch also recognizes daytime naps in order to record more complete sleep information.
Measure Your Stress Levels.
Calm Yourself
When Feeling Overwhelmed.
Stress is an underlying cause of many health problems. With the GTS 2, you can check to see where your personal stress level lies – from relaxed, normal, medium or high – anytime you feel pressured throughout the day, so you know when to relax and reduce it.
Liberate Your Hands.
Music Storage and Playback.
Your Playlist on Your Time.
The Amazfit GTS 2 supports controlling mobile music playback through the watch, and with a massive 3GB12
of local music storage, you can transfer 300-600 of your favorite songs to the watch through your mobile phone. With your Amazfit PowerBuds13 wireless headphones, or directly through the watch speaker, you can instantly listen to your carefully collected playlist – so put down your phone, workout, and follow the rhythm of the music anytime, anywhere.
90 Built-in Sports Modes.
Smart Recognition* of Sports.
Activate one of the 90 sports modes that you need and, after the exercise is over, the watch will produce a corresponding analytical report which is also viewable in the mobile app, to help you continuously improve your exercise plan. Intelligent recognition of sports modes also eliminates the need to manually select the sports modes, so the watch is always ready for action.
* Smart recognition of sports modes includes Outdoor Running, Treadmill, Walking, Outdoor Cycling, Pool Swimming, and Elliptical.
5 ATM Waterproof14.
Escorts You Even Under Water.
Thanks to professional waterproofing that offers protection up to a depth of 50 meters, the
Amazfit GTS 2 is on par with traditional high-end watches and can be worn worry-free for
daily use or when swimming.
7-day Battery Life15.
No Pause in Your Progress.
Thinner, lighter, and with a longer battery life. The new Amazfit GTS 2 is equipped with a
246mAh large battery that can last 7 days with normal usage, and is always ready to escort
you on your journeys and track your progress. Enjoy a full week of activity without worrying
about carrying a charger everywhere.
Quick Access to Key Information.
Intelligence on the Left, Convenience on the Right.
Swipe right to access the shortcut cards function which smartly shows notifications, event information, weather, music, and background applications in-use. Also, swipe left for the Quick Access app; a customizable secondary screen application for convenient access to your commonly-used functions. Make daily life more convenient with the ability to quickly glance at the important information.